Fast, Easy & Authoritative.
API Solutions that Support your Workflow
Kaleidoscope's APIs offer unique benefits: flexibility for filtering, full-text query, extracted data points, quick widgets, comprehensive coverage, and a choice of options for delivery.
Enriched with metadata far beyond that of any other provider, utilize the metadata to filter by filing types, financial size, industry, and geographic location. Or "drink from the firehose" for all filings. Historical backfill is available.
Leverage the power of Kaleidoscope's search technology to pinpoint and stream relevant, real-time data to your platform.
Data points from Institutional Holders (13-Fs), Insider Forms (3,4,5), Audit Fees and Executive Compensation.
The API contains all SEC filing types from 1994 to date, updated in real-time. Other data types include Agreements, Exhibit types, Earnings call transcripts, and Financial data tables.
For a quick, no programming solution, select the Widget option to display your selected data
Push or pull, streaming or batched, the choice is yours.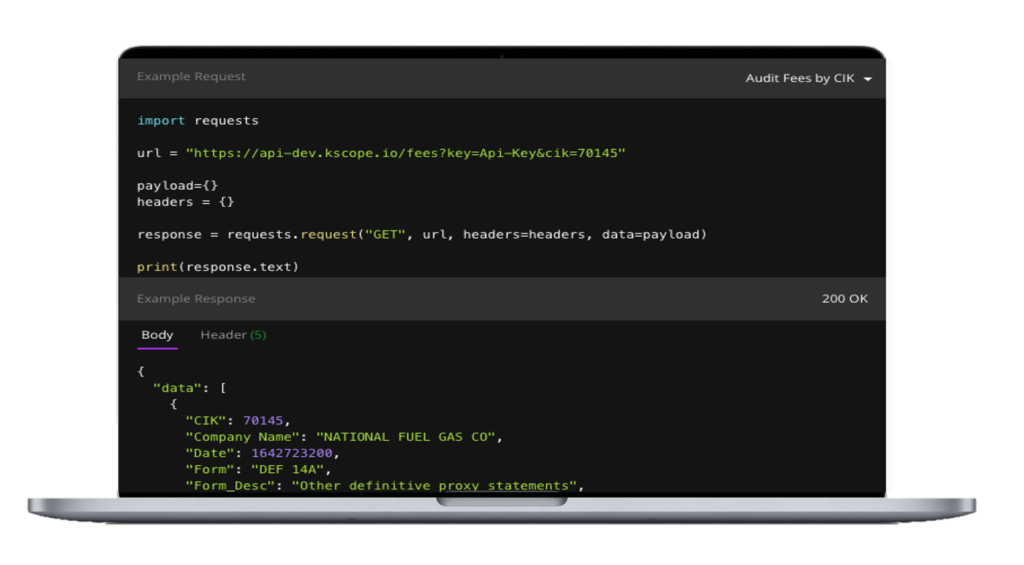 Our RESTful API utilizes JSON and is system agnostic so you can integrate it into any custom application. All APIs are customizable and can be extended to include any datapoint currently offered on our research tool.
Create custom reports, dashboards and investor pages with Kaleidoscope's easy-to-use widget APIs. No coding required.
✓  SEC Filings
✓  Alerts
✓  Stock Data
✓  Transcripts
✓  News