Flexible, comprehensive source for public company research.
Search with pinpoint accuracy – keyword, phrases and advanced

 boolean operators

.
Section search on 10-K's, 10-Q's, 8-K's and 20-F's.
Company Search – (1994 to present)

displays 12 layers of related information from SEC filings, stock data, earnings call transcripts, extracted insider information, extracted Institutional holdings, fundamental financial data, BOD Affiliations, executive & director compensation, news and key events.

Director/Officer Search – delivers up to 6 layers of related information on any executive officers or directors.
Compare – automatically displays added/deleted language between filings, exhibits or agreements.
Drill Down – search within a search.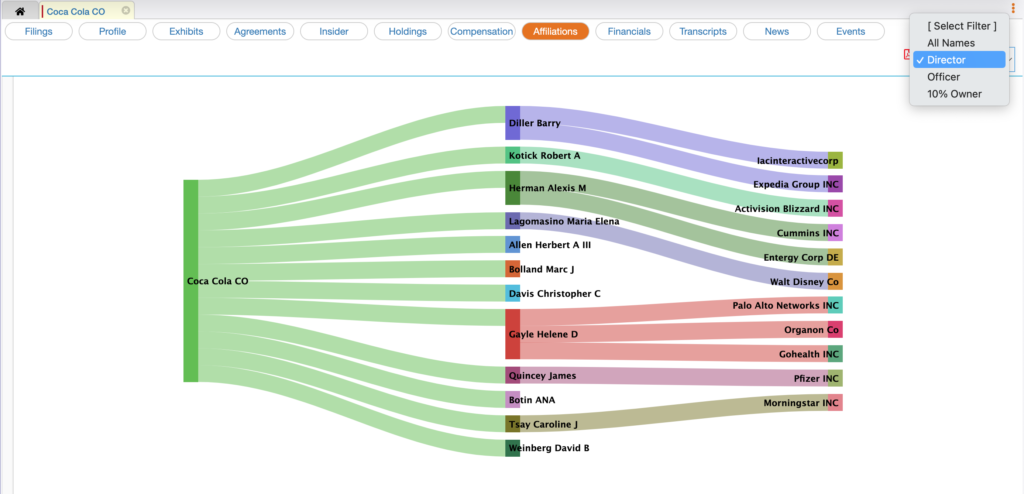 Faster and easier. Extracted, organized and integrated data saves time.
Agreements – categorized and alphabetized; clause searching made easy.
Exhibits – Bylaws, articles of incorporation, subsidiaries, accounting firm reports, etc.
Executives and Directors – Bios, agreements, compensation, affiliations, and stock holdings.
Insider Transactions – snapshots of shareholdings, current value, past transactions, and buying or selling trends.
Institutional Holders (13F data) – trend-charts calculate the % of change QoQ, who's buying, who's selling.
Key Events – trends, hits in context, filings and volume filterable by month, industry, company and SEC filing type.
Immediate comprehension 60,000 x faster than reading text.
Data-driven charts and graphs convey meaningful statistics and quantitative metrics about all search results.
Dynamic metrics calculated in real-time based on new criteria or filter.
Interactive charts filter results for a quick drill down with pinpoint accuracy. 
Color-coding delineates sections for easier identification and enables faster recognition of different types of filings throughout the system.